Concordia University is committed to the success of every one of our students. And now more than ever, technology is a vital part of helping them reach their full potential.
---
But because of the economic challenges that many students now face, the necessary technology is just beyond their reach. Yet you can make a difference in the life of a student by supporting the Digital Angel Fund.
We realize that not all students will be in a financial position to purchase a new laptop computer, and we do not want this economic need to preclude students from pursuing an uncommon life at Concordia University Wisconsin.
Gifts given to the Digital Angel Fund will go directly to underwriting the cost of a computer or program upgrade for a student in need. Each computer costs around $350, and the Fund will be administered by the Office of Student Enrollment and Engagement.
We are reaching out to our generous Concordia community to ask for your support. As a university committed to helping all of our students develop in mind, body, and spirit, for service to Christ in the Church and the world, the Digital Angel Fund is one way to help us live out that mission. This initiative will allow ALL of our students to have an equal, unmatched experience at Concordia as they prepare to live and serve in an uncommon way.
Thank you for your partnership in advancing the mission of Concordia University!
Sincerely,
ELIZABETH POLZIN, EDD
Are you a Concordia University student in need of a laptop? Contact Elizabeth Polzin to for an application to determine your eligibility.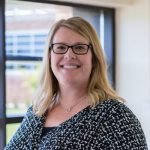 —This article is written by Dr. Elizabeth Polzin who currently serves as the Assistant Vice President of Academics for Student Success, where she oversees student academic support, and Assistant Professor at Concordia University. Her career background includes working on a Native Reservation as an administrator, counselor, and school psychological examiner. Dr. Polzin holds her master's degree in school counseling, certification as a school psychological examiner, and an EdD in instructional leadership.
—
If this story has inspired you, why not explore how you can help further Concordia's mission through giving.