Do you want to earn an accelerated degree in education? Juana Timoteo shares her experience in Concordia's Accelerated Elementary Education program.
---
Juana's path toward an accelerated degree in education
When you know you want to become a teacher, why wait? Juana Timoteo felt called to become a teacher, and she wanted to speed up the process. After working as a paraprofessional for four years, she decided to follow her dreams and become a teacher. If you'd like to know more about Juana and the Accelerated Elementary Education program at Concordia University, read more below.
Note: Juana's responses are typed in italics.
Tell us about yourself.
My name is Juana Guadalupe Timoteo. I was born in San Luis Potosi, Mexico, and raised in South Beloit, IL. I'm married to my husband, Nicolas Timoteo Mendoza. We have two lovely children, Jacqueline Timoteo (age 7), and Adalee Timoteo (age 3).
I'm currently working as a Spanish teacher at Our Lady of Assumption Catholic School in Beloit, WI. I graduated from Hononegah High school in 2013, and attended Rock Valley College for one semester. At that point, my dream was to become a cardiologist. One day, I received a call from a school district, offering me a job as an ELA paraprofessional. But, I didn't have experience. On the bright side, I had a teacher coaching me on instructing the English language to a foreign student from Mexico. I now have spent four years working as a paraprofessional.
When did you first know you wanted to become a teacher?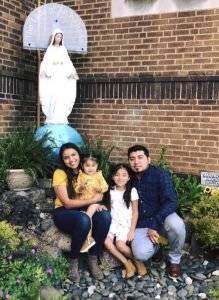 During my time as a paraprofessional, I learned the value of relationships and connections with students. I believe that I became a role model for many students to look up to. My professional experience as a paraprofessional has inspired me to become a teacher.
What drew you to Concordia's Accelerated Bachelor's in Elementary Education program?
I reached out to colleges for support. I wanted to learn to become a teacher. A few of the colleges had to be in-person, and they were so far from home. Also, they didn't offer online courses. At that point, I reached out to friends for suggestions of colleges, and someone mentioned Concordia University. I heard such great things about the accelerated elementary education program (AEE) and what benefits it had for me! I knew that I had to take advantage of this awesome opportunity. Now that I have started my journey in AEE program, all I can say is that I have learned a lot from my professors and that I'm thankful for how they support and guide me.
What have you enjoyed most about your classes?
I have enjoyed our discussions assignments as a class. Our professors provide many digital resources to help us to become better teachers. This has helped reinforce concepts and is helping me to become a better Spanish teacher. I strongly recommend this AEE program, to anyone that fits in the educational career and also benefits a lot if you have children. Thank you, Concordia University!
Do you want to know more?
If you're interested in learning more information about Concordia's Accelerated Elementary Education program, you can find out more here.
—
If this story has inspired you, why not explore how you can help further Concordia's mission through giving.